WILLIAM LOUIS SØRENSEN (DK)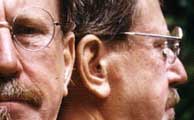 William Louis Soerensen has since 1962 exhibited painting, graphic and sculpture at official Danish exbibitions.
Around 1965 he started working with photo, film, video and environments, performances, installations in Denmark and abroad.
In the middle of the seventies he began building series of sound instruments for concerts together with the audience.
Since 1980 he has concentrated these instruments inlarger interactive projects as Soundsculptures, that integrate their visual and acoustic functions into the enviromment.
Since 1990 navigating in Networkssystems and operating installations with interactive digital multimedia projects.
Listen to William Louis Sørensens "Wave" (Real Audio).
Visit William Louis Sørensens website here.