TOBIAS KIRSTEIN (DK)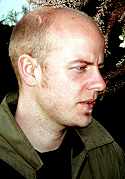 b. 1972
Drums, reel to reel taperecorder, radio.


collaborations with:


Sune T.B. Nielsen (nobass, sinus)/g h o s t h e a d p h o n e s; Jacob Kirkegaard/ex-Æter (gtr./electronics) Rasmus Brandt/virvar, ræs (bass, feed); Sture Ericsson (sax) Jørgen Teller (gtr.), Peter Kyed(gtr.), Per Buhl Acs (gtr.); Rex Casswell (gtr.)/Bark!, Stuart Lynch (dance); Anders Elberling (pix); Anne-sophie Millet (F) (Obo, taperecorder, radio ); Cyril Hory (F)(Obo) Troels Holmstrøm (gtr.); Alain Wergifosse (B/E) (electronics); Jakob Riis (laptop)/Alarm112; Johan Seegerberg (doublebass); Søren Gorm (double-/electricbass); Anders Christiansen (dance); Signe Andersen (dance); Morten Lerhard (food). A member of the Ssshhhhh Ghettoblasterensemble."


Listen to "HÝrt" (mpg-file, 1.096 Kb)
by g h o s t h e a d p h o n e s.