JAKOB RIIS (DK)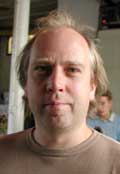 Composer, electronic musician, improviser. Active in the experimental fields of electronic music, sound, sonic webart, improvisation and contemporary composition.
Works with/for: Alarm112 (www.alarm112.com), Anne Katrine Kallmoes (choreographer), ATAGS, Bidt (performancetheater), Copenhagen Art Ensemble, Den 3. Vej's Kammerensemble, Ensemble New, Hans Fjellestad (www.zucasa.com), Lydmuren DR P1, Maia Horniak (sound/music for film), Pierre Dørge, Randers Byorkester, Roskilde Festival (performance), Ssshhhhh....(soundbiennale in Copenhagen), The Orchestra, Thomas Sandberg (www.thomassandberg.dk) and Toneart Workshop Ensemble.
Studied Trombone at Rhythmic Conservatory, Copenhagen 1986 - 1990, and Composition with Bob Brookmeyer (ao.) at Rhythmic Conservatory, Copenhagen 1996 - 1998
Listen to "RinGhosts (airborne)" by Jakob Riis, hi stream or lo stream in RealAudio.
Visit Jakob Riis' website "sonicEscape.net" here.